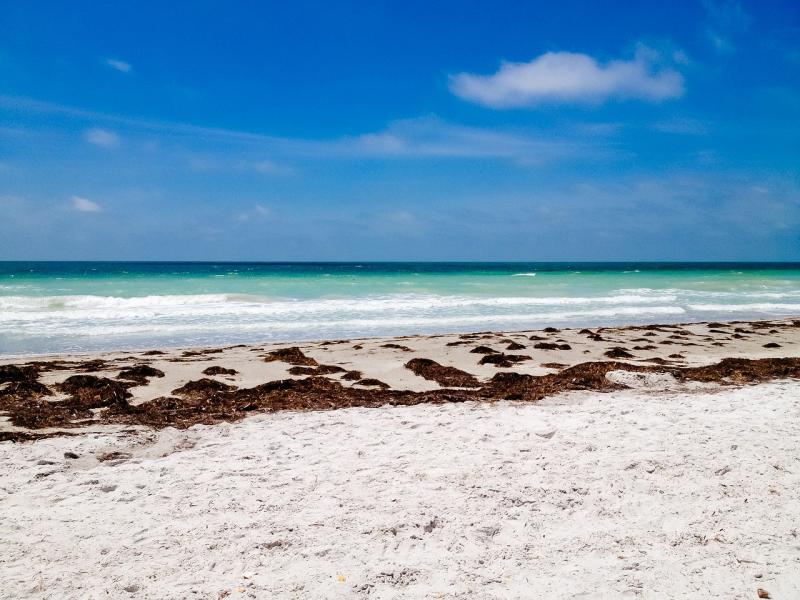 One of Florida's best-loved state parks, Honeymoon Island, has more than four miles of pristine beach to explore along with a three-mile trail through one of the last remaining virgin slash pine forests.
Swimming, fishing, shelling, hiking and bicycling are all popular activities on Honeymoon Island, as well as wildlife viewing of eagles, osprey, great horned owls, gopher tortoises, and armadillos.
The 385-acre state park has three distinct beaches:
Main Beach is deep and wide with fine-grained white sand you find at the best of the Gulf's beaches. There are huge parking lots, restrooms, a café, and lots of people with coolers and umbrellas.
Dog Beach is popular with those who love their furry companions. Dogs are welcome here on 6-foot leashes. Dog Beach faces Hurricane Pass, which separates Honeymoon Island from nearby Caladesi State Park.
Then there is the northern-most Honeymoon Island beach, which is wild, much narrower than the other beaches, and studded with rocks and seashells. It goes on and on and the farther you walk, the more stunning the scenery. When you reach the end of the sand there are tide pools, sand dunes and salt marshes that stretch out in every direction.
Honeymoon Island also has an interesting history. Here are the highlights:
Honeymoon Island and nearby Caladesi Island used to be a single island called Hog Island. Then in 1921 a massive hurricane split the island into two.
Towards the end of the 1930s, businessman Clinton Washburn bought the land and noted during a meal with the editor of Life magazine that it would be an excellent location for a Honeymoon. Joseph Bryce, the Life Magazine editor, ran the story and Honeymoon Island was born. They came up with a contest where newlyweds, married for less than two weeks, were invited to write Washburn to apply for free vacations. Honeymoon Isle (as it was known) was then open to select honeymoon guests in March of 1940 with fifty thatched cottages, a king's palace, a chapel, and recreational hall with dance pavilion.
Honeymoon Isle, unfortunately, was short-lived. At the onset of World War II, the island was leased to an Ohio defense contractor as a temporary vacation site for employees. The northern part of the island was used by the Marine Corps to test amphibious vehicles. After the war, the island was in shambles. The land was purchased in 1956 by Arthur Vining Davis and sold again in 1958 to Robert E. Lee who intended to build a causeway and residential units on the island. However, in 1969 with a lack of progress, his permit expired. The land was then purchased by the State of Florida in 1974 and became Honeymoon Island State Recreation Area in 1981.
You can learn everything there is to know about Honeymoon State Park by visiting the Rotary Centennial Nature Center on the island. Honeymoon Island truly is a beautiful and pristine place rich in natural resources and breathtaking scenery, and is one of Florida's most loved beach distinations.
Be sure to check the Florida State Parks website before you go to see the latest Coronavirus updates.