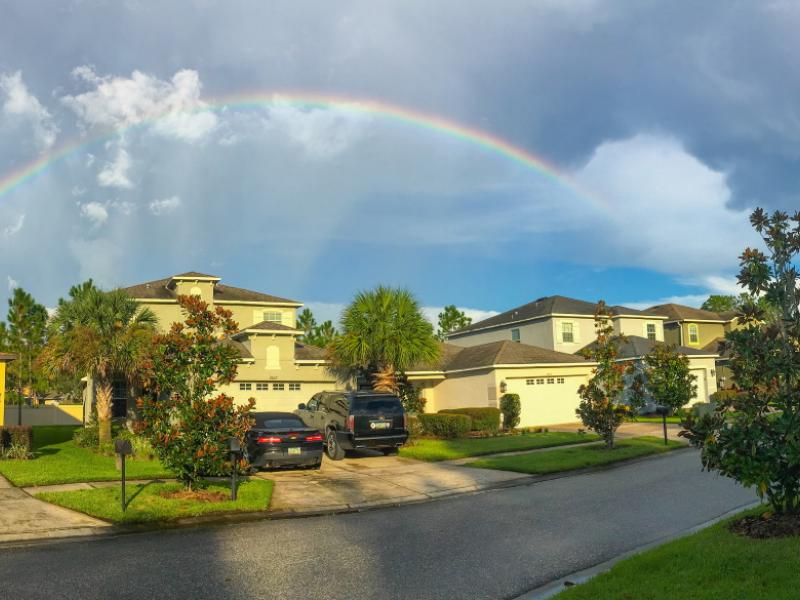 Before you start looking for a home to buy, you need to consider the neighborhood. There's no point in falling in love with a home in an area that does not suit your lifestyle. If you realize after you move that the neighborhood's not for you, it's too late.
There are so many things to consider when you're searching for the perfect neighborhood. Safety, amenities, schools, your commute to work, just to name a few. Where do you start? Here are some essentials you shouldn't overlook when searching for a neighborhood where you will be happy living.
Have you thought about sidewalks? Sidewalks actually say a lot about a community. If you're looking for an active place to live, sidewalks can be a good indicator that there are places like parks and other amenities nearby and within walking distance. Sidewalks also make neighborhoods safer. Whether you're walking to the grocery store, the corner restaurant or your neighbor's house, sidewalks will keep you safe from traffic. The safety aspect alone makes sidewalks extremely desirable if you have pets or children, as you'll likely be walking the neighborhood regularly.
Make sure you know what additional expenses you may incur and/or rules you may need to follow living in a specific neighborhood. If you're moving into a country club development or a condo, you may be subject to a set of rules and be responsible for homeowner's association fees. You will want to understand those completely before making a decision. If the association forbids parking motorcycles in your driveway, for example, and you happen to own two of them, then it's definitely something you need to consider.
Whether you're a family with young children, a retired couple or a single person, it is important to make sure your new neighborhood has local amenities to suit your lifestyle. Families with children might be interested in swim/tennis communities with parks, as well as libraries and ballet and karate lessons nearby. A young single person with a dog might want a dog park or bike trails within walking distance, plus an active nightlife scene with bars or restaurants close by. You may have to compromise on some of your desires to find a home in your price range, but just make sure the amenities most important to you are convenient.
Convenience is very important to your happiness and stress level. Unless you telecommute every day, the distance you have to drive to and from work is a very important consideration. Will you use public transportation, and if so, how convenient is it to get to the station. Is there a shopping center nearby where you can accomplish several errands at once? Easy access to stores you frequent on a regular basis is key to keeping your stress level to a minimum.
It's also a good idea to check with your local planning office regarding the city's future plans for your area. The planning office can inform you of any future construction projects or road expansions that would affect the neighborhood. You might think a neighborhood is perfect because it's quaint, quiet and private with lots of mature trees, only to find out that a developer is clear cutting the trees behind the house you like to build another subdivision.
You should visit a neighborhood at several different times of the day before making a decision. Train tracks, local restaurants and bars, air traffic and medical centers all create noise that might be a menace to you. Unwelcome noises could also include your neighbors. Whether it's a couple who fights all of the time, a family with three large dogs or children screaming, you'll want to know about these noises before making your decision. Visiting at least three different times of the day will give you a good idea of what you'll actually experience living there.
Finding out how your new neighborhood's crime rate stacks up against your current one or others in the area is a fairly easy task. There are many web sites that have already done the investigative work for you. If you're on the fence between two neighborhoods, but one has a better crime rate, knowing this information might make your decision easier.
Public and private schools, kindergarten through high school, and even preschools can greatly affect the value of a home. While the subject of schools might be more important to a family with children or a couple hoping to start a family, good schools should be a priority on anyone's list. If you don't have children, it's important to understand how the quality of the school system in that zone will affect the resale of your home.
But, finding your dream neighborhood isn't just about statistics and information, it's about how it makes you feel. Will you be happy living there? If you are looking for a hip urban redevelopment, you may not be happy in a quiet, family-oriented neighborhood. This means you may have to compromise on some of your criteria. If you live in a city and want to move to an area with an active nightlife, you might need to compromise a bit on some other things. If you crave a place away from it all, surrounded by nature, you might have to give up convenience.
The bottom line is you probably won't be happy in a neighborhood that doesn't fit well into your lifestyle. Make sure you find the right neighborhood culture first, and then the other pieces will fall into place.
If you are not familiar with the neighborhoods in the areas where you want to live, your real estate agent can be a big help. A professional experienced agent will know the area characteristics, amenities, schools, transportation, shopping, and can help you get all your questions answered.
Looking to purchase a new home? Contact us for guidance in finding your dream home in the perfect neighborhood.